A FEW OF OUR projects completed
Below are a few of our completed projects that show the diverse range of opportunities to deploy KomboFRP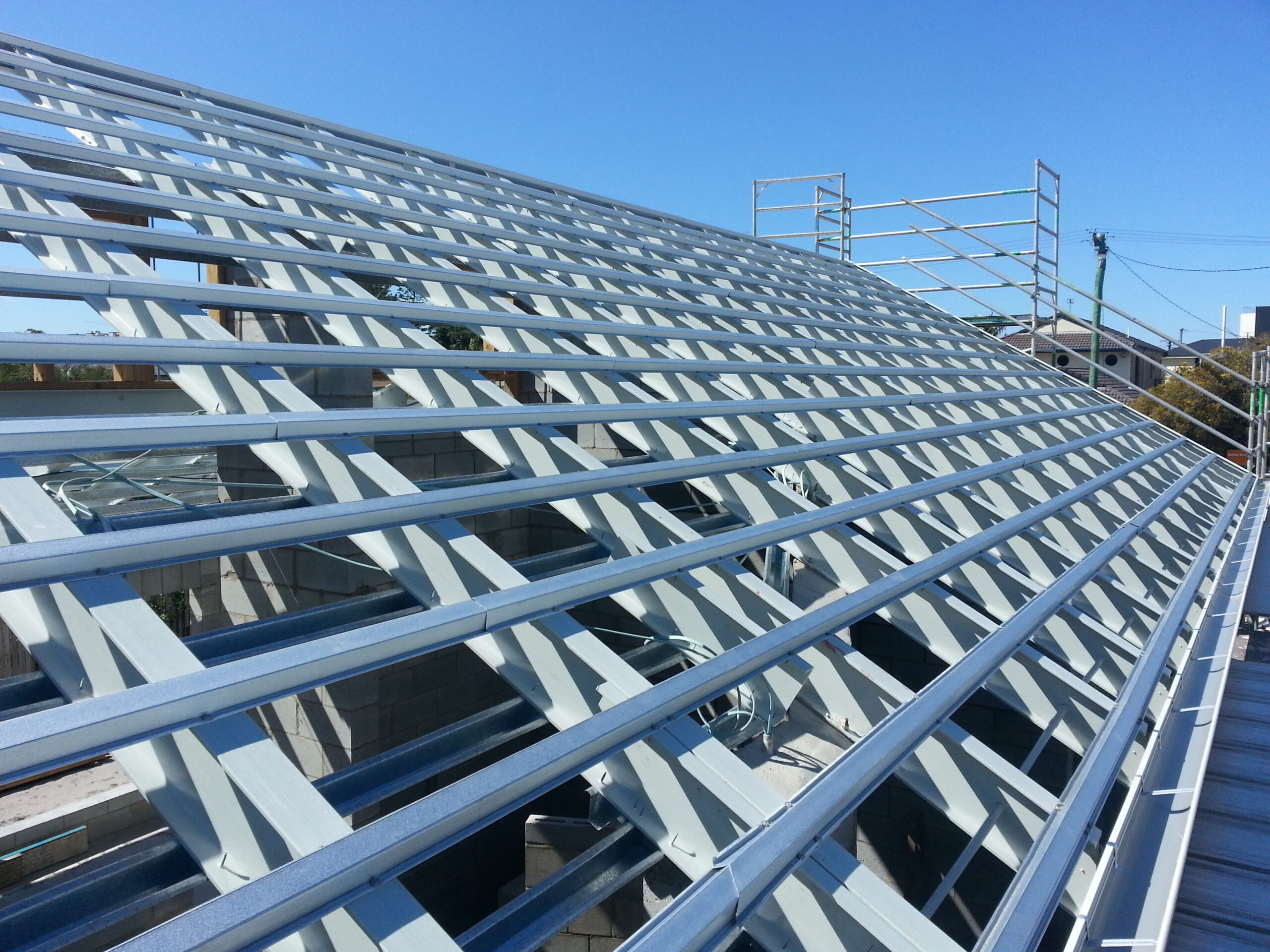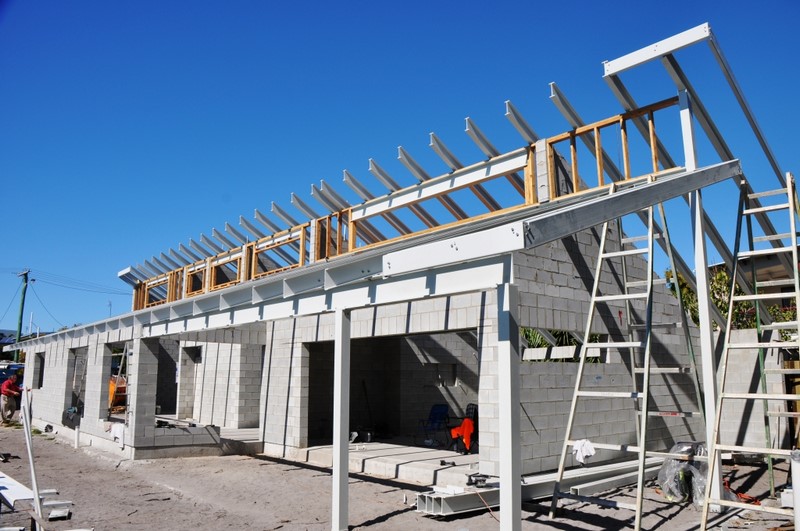 Designed to meet the strict HIA Green Smart design specification, this home incorporated 100% KomboFRP for all the structural members. From rafters, joists, lintels and posts, FRP was proven to be easier to install, avoided the need for costly cranes with all FRP members (including a 12 m long I-beam for the garage lintel) being lifted into place by hand, highlighting the significant benefit KomboFRP offers over other materials.
Arguable the most ambitious residential home project ever completed in Australia with regard to the use of FRP. Originally we were asked by the builder to assist with designing a FRP rafter to support a 7m span. During these discussions, several other opportunities for using FRP were identified and we were provided all the plans for the home. A complete design mapping was then completed to reverse engineer the structural members of timber and steel, ultimately replacing them with KomboFRP profiles. 
For building projects on flat, sloping blocks and difficult access sites, FRP has proven to offer a cost effective option over traditional building materials. If you have plans for a new project or simply want to learn more about KomboFRP's product range and capabilities, contact our office today.
The housing crisis is putting enormous pressure on the supply of affordable quality homes. Many people are living in terrible conditions or temporary shelters due to the lack of housing supply in their areas.
The need to provide affordable house solutions requires innovation, both in terms of the use of land and the building types for them. Shortages in land release, rising material costs and now increasing interest rates are forcing prospective home owners to look for new and more cost effective housing solutions.
KomboFRP already work with a number of innovative tiny home developers to help them meet these challenges. Our structural FRP range offers a better choice for framing and decking these new homes, reducing the cost to build, transport and maintain tiny homes across Australia.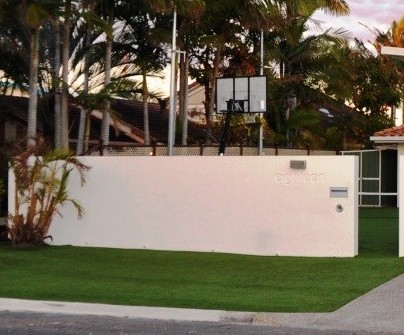 Block walls provide a formal and secure boundary to any property. The traditional design is based on cement blocks that are core filled with concrete then rendered. The build time is slow as a result of the time taken for the required foundation to be made, then the labour to construct the wall and render it. For many completed block walls, cracks appear down the track as a result of movements in the foundation which are not identified until well after the project is completed.
An option to cement block walls are the use of polystyrene, polyurethane and others light weight materials that are used to replace the concrete, which are still rendered to provide the same look and appeal. The problem however with these systems, is they use steel box sections to secure them to the footings which will ultimately rust over time reducing the structural integrity of these walls. KomboFRP tube provides the long term solution to these problems. Including solid FRP rod for joining between sections.
This rendered wall was pre-built in the factory and then delivered to site by truck. The KomboFRP rods reduced the weight for the overall walls ensuring the panels were easily lifted into place on site by hand. Once in place a concrete foundation is poured around the FRP rods resulting in a full build of days rather than weeks when a traditional cement block system is used.
Mezzanine floors add value to any facility, either for warehouses or homes, a safe secure loft or office area maximises your office usage. KomboFRP provides the framework to quickly and cost-effectively build your mezzanine area, we supply posts, I-beams, brackets, channels (for joists) or through our partners, wide spanning SIP flooring to help you create your mezzanine area quickly and cost effectively.
These photos show two simple mezzanine solutions, one using SIP panels to span over 3m sections, allowing for this 12m x 3.4m mezzanine floor to be installed in two days by two people, and the other using our c-channel for the joists, spanning 4m with a plywood flooring.
Traditional structural materials used for decks over salt water canals are aluminium trusses and timber beams. To achieve the large spans required, the hardwood beams or aluminium trusses are quite large in size, making them difficult to lift and install on site and in many cases require the use of cranes or larger teams of tradesmen to manage the physical lifting.
KomboFRP I-beams supporting spans of 6m, are easily lifted by hand and provide a fast and easy to install bearer framework as shown in these photos. Our 200×60 C-Channels span 4m to provide a solid and secure joist and are easily installed by one person. The entire framework for the deck can be quickly installed and secured with stainless steel fixings. The larger spans supported by our I-beam also mean less piles are required, these savings from less piles cover a large component of the overall project costs.
For a low maintenance, eco-friendly deck framework in salt water environments, KomboFRP is the smart choice. There are no concerns over wood rot or ongoing maintenance. Unlike aluminium trusses which can need 500mm or higher profiles to support the larger spans, KomboFRP does not restrict access under the deck allowing maximum usage both above and below your new deck, including for storage of sea craft or boat access.
Bearers and joists in difficult to access or low clearance areas can quickly deteriorate. Termites, wood rot, rust are all problems unseen until it is too late. For some projects restrictions on how much height is available to keep the finished deck at the required level, make it difficult or simply impossible to achieve the required air flow and meet the manufacturer or industry recommended standards to provide a genuine warranted installation. 
When the damage is done it all lead to thousands of dollars of repair bills and the inconvenience of having work redone often before the expensive timber flooring installed has shown any real signs of wear.
KomboFRP offers many advantages over these materials. It can be installed on the ground, is not affected by termites, rust or rot, offers longer spans and convenience of easy fixings using traditional carpentry procedures. This means you no longer need to be concerned about replacing the bearers and joists and can enjoy your new flooring regardless of what restrictions your project build sends you.

Cement rendered cantilever roofs require significant bracing and foundations to support the weight of the structure, along with a lot of steel and formwork to hold the concrete during the pour stage. For large projects they can severely impact on the overall program schedule due to the fact that they need weeks for the formwork to be constructed then more time for the concrete when poured to set.
Steel used in the framework is susceptible to corrosion and in coastal builds extra costs are incurred to ensure not only adequate steel meshing is used but that it is protected from exposure to the elements.
A novel approach is to use a lighter but stronger FRP framework and then use polystyrene or polyurethane sheets to replace the concrete and steel traditionally used. These are easily rendered on site in a much quicker time frame. The render coating is the final finish, resulting in the same look but at a lower cost and shorter time frame.
CARPORT NEXT TO THE OCEAN
Structural frames for building projects within 100-500m of the ocean are expensive to maintain. Metal brackets and fixtures rust creating a dangerous and costly repair bill and galvanised steel through time will also ultimately rust. Stainless steel beams or large and heavy timber beams are generally required adding significantly to the cost.
This canal property avoided all the problems of timber, steel and aluminium by using KomboFRP. The fixings used stainless steel bolts and FRP brackets to provide a genuine long term solution with little to no maintenance required.
To meet the high wind rated location, the FRP posts were cemented into the  ground. No rust, termite or rot concerns when FRP is used.
Solar panels are providing a much needed green energy solution to support our growing energy requirements. However, supporting the hundreds of panels required in larger retail and commercial applications in often isolated or remote locations has traditionally relied upon the use of timber, steel or aluminium for the solar farm frames.
In some high fire or termite risk areas, timber is not a viable option, while galvanised steel is not suitable for coastal, acidic or high alkaline locations.  Aluminium has become a standard frame choice for the reasons noted above, but is an expensive option that can add significantly to the overall project costs.
KomboFRP provides a superior solution over these materials that is easy to install, requires little to no ongoing maintenance and supports high wind rated areas with larger spans between posts.
Clean. Renewable. Efficient.
KomboFRP provides the alternate structural component you never knew existed – until now.
Contact us now
Learn More